Roundy from Green River earns NFHS Section 7 Heart-of-the-Arts award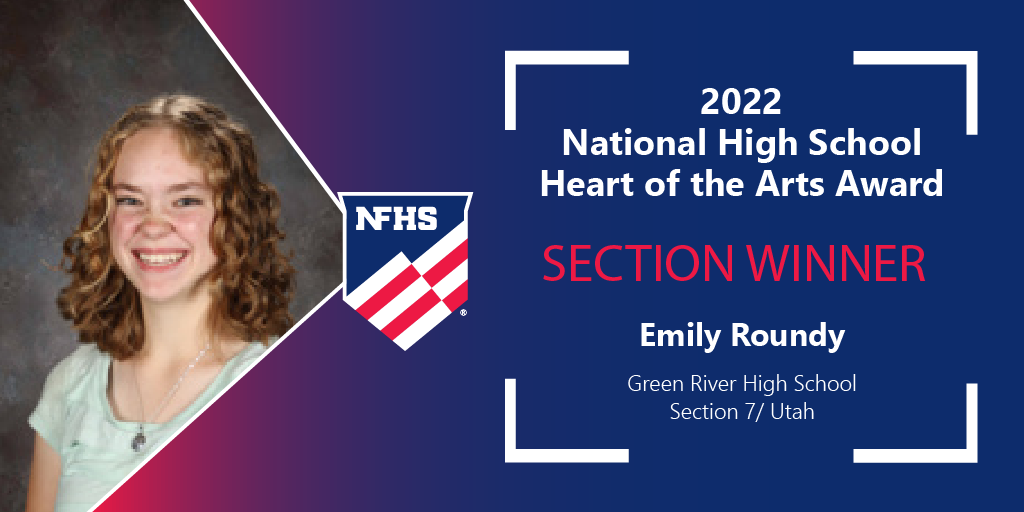 INDIANAPOLIS, IN (March 15, 2022) — The National Federation of State High School Associations (NFHS) has selected Emily Roundy, a student at Green River High School in Green River, Utah, as the 2022 NFHS Section 7 Heart of the Arts Award recipient.
A junior at Green River High School, Roundy has been highly involved in debate, choir and robotics and has been part of the student government, serving as president of her sophomore class. While she has reached the state robotics competition, her most extraordinary success has come as a participant in Family, Career and Community Leaders of America (FCCLA), for which she has twice qualified for nationals. Unfortunately, due to financial constraints brought on by her mother's cancer diagnosis, Roundy was unable to attend either of her rightful national competitions, and instead has been tasked with a larger portion of the caretaking responsibilities for her three siblings. Through all of that, she has maintained her 4.0 GPA as well as her dedicated extracurricular involvement and even joined Pro Start, a culinary-focused activity affiliated with FCCLA.
Nominations for this award were generated through NFHS member state associations and reviewed by the NFHS National High School Heart of the Arts Award Selection Committee composed of state association staff members. While the national winner will be recognized June 29 at the NFHS Summer Meeting in San Antonio, Texas, the section winners will be recognized within their respective states and will receive awards before the end of the current school year. Including this year, nine individuals, one band and one theatre group have been chosen national award recipients.
Section 7 of the NFHS consists of the states of Arizona, California, Hawai'i, Nevada and Utah.
About UHSAA
The UHSAA is the leadership organization for high school athletic and fine arts activities in Utah. Since 1927, the UHSAA has led the development of education-based interscholastic athletic and fine arts activities that help students succeed in their lives. The belief is these activities are an essential part of the high school experience and go a long way to improving academic performance and producing better citizens... Read More